Guided by our mission in nation-building, Pilipinas Shell Petroleum Corporation has been actively supporting the country's startups and budding entrepreneurs in developing their businesses.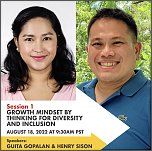 Thus, Shell LiveWIRE, the flagship enterprise development program of Pilipinas Shell, is inviting entrepreneurs and startups across the Philippines to join the Shell LiveWIRE Virtual HomeRoom Sessions.
The first session of Shell LiveWIRE Virtual HomeRoom will be on August 18, 2022, 9:30 AM – 11:30 AM. The topic for this session is "Growth Mindset by Thinking for Diversity and Inclusion." The participants will learn relevant knowledge and skills from knowing the importance of validation, the startup methodology, and how to build and test a Minimum Viable Product(MVP). In addition, growing businesses will be given the free opportunity to learn more about operating in their respective industries from our handpicked mentors. These mentors share valuable learnings from their entrepreneurial journeys.
All Shell LiveWIRE sessions will be an interactive learning opportunity as the participants engage in a workshop tackling relevant and practical business lessons. There will also be a dedicated portion for the startups to ask questions from the mentors.
Pilipinas Shell has been a partner in nation-building for over 108 years, and Shell LiveWIRE is just one of the different livelihood and sustainability initiatives aimed at driving mobility and powering progress for the country.
To register,
click
.