𝗖𝗲𝗯𝘂 𝗕𝘂𝘀𝗶𝗻𝗲𝘀𝘀 𝗠𝗼𝗻𝘁𝗵 𝟮𝟬𝟮𝟮 brings you 𝗚𝗢 𝗜𝗡𝗩𝗘𝗦𝗧 𝗖𝗘𝗕𝗨: 𝗘𝗡𝗧𝗥𝗘𝗣𝗥𝗘𝗡𝗘𝗨𝗥𝗦' 𝗦𝗨𝗠𝗠𝗜𝗧 which gathers Cebu's established and aspiring entrepreneurs and key stakeholders from the public and private sectors to learn about the latest innovations, share best practices, and discover points of convergence.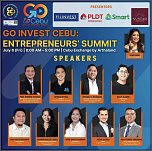 Happening this July 8, 2022, at Cebu Exchange Arthaland, the 𝗚𝗢 𝗜𝗡𝗩𝗘𝗦𝗧 𝗖𝗘𝗕𝗨: 𝗘𝗡𝗧𝗥𝗘𝗣𝗥𝗘𝗡𝗘𝗨𝗥𝗦' 𝗦𝗨𝗠𝗠𝗜𝗧 highlights how bringing I.T. to the forefront of business will take Cebu's economy to the next level.
Cebu Business Month invites a powerhouse of highly-esteemed speakers and industry experts like Prof. Enrique Soriano, Turnaround Advisor & Family Business Consultant of Wong + Bernstein Advisory Group (W&B); George Royeca, CEO and Transport Advocate of Angkas; Michael Maquiran, Regional General Manager for Vismin of Converge ICT Solutions Inc.; Rolly Alagon Owner of Ally Mango; Dave Maestrecampo Owner of Cole's CANSI; Katrina Mae De Jesus, Director of Business Development of NUSTAR Resort, Abbie Dans-Casanova, President & CEO of S.B. Finance; Paolo Azzola, Chief Strategy Officer of Maya Business, and Jose Franco Soberano Executive Vice President & Chief Operating Officer of Cebu Landmasters, Inc.
The Entrepreneurs' Summit will be hosted and moderated by June Rabin.
If you are an entrepreneur who wants to stay updated with the latest innovations in business, then you shouldn't miss this event.
Tickets are selling fast! Book your tickets now through this link >>>
https://bit.ly/GOInvestCebu
#GoInvestCebu #cbm2022 #cbmGoCebu #RealignReinforceRebuild #cebuchamberofcommerceandindustry #CebuBusiness